Are you ready to discover the secrets behind transforming recruitment challenges into recruitment wins? We invite you to watch an insightful virtual event where we discuss the inspiring success story of Casey House and how Scout Talent played a crucial role in reshaping their hiring process.
🎙️ Key Highlights:
Gain invaluable insights from real-world experiences as Casey House shares their recruitment obstacles and how they conquered them.
Learn how Scout Talent's innovative solutions provided the roadmap to streamline and elevate Casey House's hiring strategies.
Discover proven tactics to enhance your own recruitment processes and achieve lasting success.
In today's competitive landscape, finding and securing the right talent is more crucial than ever. This on-demand webinar offers a unique opportunity to learn from experts on how to overcome challenges and embrace solutions that drive your organization toward excellence. Whether you're an HR professional, a hiring manager, or someone passionate about effective recruitment, this event is tailor-made for you.
📢 Watch now and revolutionize your approach to hiring! Don't miss out on this chance to empower your recruitment strategies and embark on a journey from struggle to success.
Webinar Video
Enter your details below and a copy of the webinar recording will be emailed to you promptly. Enjoy the discussion at your own pace and be sure to browse our other resources for more talent acquisition insights.

Are you ready to transform your recruitment strategies?
Explore the innovative solutions employed by Casey House during the webinar.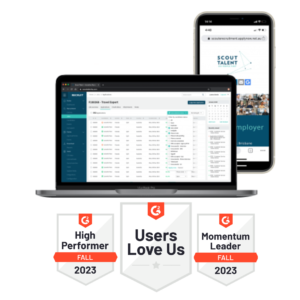 :Recruit – Scout Talent's premier :Recruit module is an applicant tracking system and recruitment CRM that allows your organization to manage its entire talent acquisition process.
:Onboard – A digital solution that makes onboarding new employees quick and effortless. Create contracts and offer letters in a few clicks, automate onboarding communications, and export candidate data for your payroll system.
Recruitment Marketing – Let our specialists target the best talent for your role and organization through strategic advertising campaigns, succinct and targeted copy, and ongoing campaign optimization. Our approach ensures your vacancy has a presence on both active and passive channels to maximize visibility and return on investment.