Welcome to the July 2023 edition of your product release notes. We value your feedback and are thrilled to introduce a range of quality-of-life product updates and a few minor bug fixes that will elevate your experience with our platform today. In the meantime, our team is gearing up to deliver game-changing product features to be launched in the near future. Stay tuned for more exciting updates! 
Now let's dive in to explore what's been recently updated.
Quality of Life Improvements 
:Recruit
Enhanced Email Attachments Visibility
Now you can conveniently access and view attachments included in emails directly from the activities tab on a candidate's application. No more searching through separate email threads or digging deep into your inbox. With this improvement, all attachments are easily accessible in one place, streamlining your workflow and saving you valuable time.
Comprehensive Email Status Logs
Our latest update brings a significant improvement to email status tracking. You can now find a detailed record of all automated emails sent within a job in the new email status tab. This provides you with a comprehensive overview of your communication history with candidates, ensuring you have complete visibility and control over your interactions. Stay informed, stay organized, and deliver an even better candidate experience.
Bug Fixes
:Recruit
Fixed issue: Sources not included in cloned jobs
Problem:

Previously, when cloning jobs, sources were not carried over, meaning users had to re-enter them.

Solution:

We have addressed this issue, and now sources will be correctly included in cloned jobs, saving you time and effort.
Resolved issue: Shareable social media links missing on talent landing pages
Problem:

Some users reported that shareable social media links were not visible on talent landing pages.

Solution:

We are happy to inform you that this problem has been resolved. The shareable social media links will now be displayed correctly on talent landing pages, enhancing their visibility and reach.
---
Product Spotlight: The Scout Talent App
Achieve your talent acquisition goals faster with the Scout Talent App
The Scout Talent App is a game-changer for internal recruitment teams, so we're changing the game and offering it for free to help you save time and get better results.
That's right, it's free!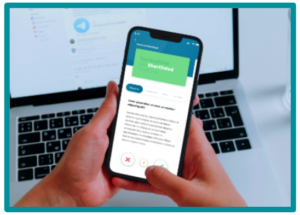 Make faster, well-informed hiring decisions right from your phone:
Review applications 

Shortlist top candidates

Take notes on-the-go

Drive recruitment from wherever you are
Hiring managers don't have to be buried in their inboxes or even behind their desks to progress candidates through the recruitment process.
---
Upcoming Advancements
:Recruit:
UIUX Visual Interface Updates
Beautiful visual updates are soon heading your way. Changes will be made to the user interface (UI) and user experience (UX) of :Recruit in both the Approvals workflow and the Smartforms view. Prepare to experience your software in a whole new light.  
AI-Powered Updates
We recently launched AI Studio, an AI-powered tool that helps you create on-brand recruitment collateral in a snap!  The next innovation coming soon to our AI suite will be AI Screen.  
Designed by and for busy HR professionals, AI Screen will streamline your processes and simplify your recruitment needs. The New AI Screen feature empowers HR professionals with time-saving tools and valuable insights, enabling you to streamline the candidate review process, make informed decisions, and ultimately improve hiring outcomes.
Life with AI Screen
Imagine being able to click into a specific job, smoothly navigate to the applications and then easily review curated, concise summaries of each candidate's application. This process allows you to effortlessly sift through and find the best-fit applicant for your job posting.
This is the simplicity that comes with AI Screen, the newest AI feature coming soon.
Want to Share Your Thoughts for Future Release Notes? 
We continuously enhance our platform based on your valuable feedback. We appreciate your input, so please don't hesitate to contact us at support@scouttalent.com.au with any suggestions or ideas.
We look forward to hearing from you and working together to shape the future of our product.