The past few months have certainly been disruptive. After so much change, we wanted to share some positive news stories about how Australian organisations (including Scout Talent!) have been adjusting. Here's what KAMS, Medadvisor and Scout Talent are doing to adapt, adjust, look after team members and invest in long-term talent strategies.
Recruiting through talent pooling
One of our clients, Kimberley Aboriginal Medical Services (KAMS), is a regional Aboriginal community-controlled organisation in Western Australia. As a result of the escalating COVID-19 crisis, KAMS was required to make changes to their service delivery and facilitate work from home measures for their team members.
"We treat our people as our greatest asset, because they make it possible for us to deliver high-quality services to our community," said Executive Manager, Julia McIntyre. "Working with KAMS, we give people the opportunity to make a real difference and improve their knowledge, skills and experience."
"Our goal at KAMS is to continue to Close the Gap and build the service-delivery capacity of our community. Our vision is to one day see all necessary Aboriginal community controlled primary healthcare services where needed, delivering culturally safe and appropriate care."
KAMS is using this time to engage their talent pool and is actively recruiting for Remote Area Nurses and Renal Healthcare Workers.
They rely on support from one of Scout Talent's Employer Branding Specialists to design targeted communications to their talent community and encourage the right candidates to apply for their roles.
"We have an incredibly attractive value proposition, with great remuneration, rostering and paid leave. When you get the right people, it's incredible. We're looking for people with specific behavioural attributes, so we use talent pooling software and copywriting services from employer branding specialists to target our ideal candidates."
Embracing work-from-home and eLearning solutions
Aside from talent pooling, other organisations have used the past few months as an opportunity to invest internally in their team through digital learning solutions. International software provider for medication management, MedAdvisor, has been doing just that.
We spoke with their Learning and Development Manager, Kath, about the changes and new initiatives they've put in place. For Kath, maintaining a great company culture has been an interesting challenge.
"I've always been a face-to-face oriented person," said Kath, "So it is an amazing learning journey for me to continue to facilitate and deliver training virtually. How can you keep people's energy up when we're not together? How can you keep things interactive and person to person when you are physically miles away?"
"My goal for training is to continue to design and deliver training so that the participants feel that they are right in the room with me. Before March this year, I use to shy away from online training design. Now I embrace it with both arms (and feet.) I know that if I can create it in my mind then I can produce an even more innovate, fun and engaging training package using online technology concepts and games that match and even rival my face-to-face achievements. "
"Yes it is a huge learning curve adjustment," said Kath. "But I'm surrounded by a fantastic team of IT people that are an incredible support. "
"It's been great having the support of the Scout Talent team. They have introduced me to a brand-new exciting world of training."
As 98% of the MedAdvisor team will be working from home until September, the organisation has implemented new workflows and made adjustments to how they support their people with working from home.
"First and foremost, physical & mental health is a priority for us. So, we chose a "home ergonomics crash test dummy" course in Scout Learning to launch our Online Training Portal. I picked it because it's colourful and interactive. Some of our team members had their kids on their knees and were learning together; they loved it!"
MedAdvisor team members shared they were excited about the launch of Scout Learning, and how it will help add value to their development options.
"It's exciting that we can offer three mediums for training: in-person training (when it's appropriate), virtual training and online training packages such as Global Inductions. Our training portal will provide training for a variety of learners such as compliance and building skills and capability training for all staff, leadership and specific programs such as high potential training options. So there will be something for everyone.
"Zoom and Teams meetings have been interesting. You get to see people's real lives. We've been embracing that and bringing into our workdays a mix such as virtual coffee chats, lunches, Friday night drinks, group photos for charity events such as White Shirt Day for Action Against Suicide. Other virtual initiatives include think-tank catch up for leaders to discuss how they can virtually support their team members. We have been encouraging people to talk about their weekends and the fun things they're doing whilst together, like pet photos/updates, Monopoly champions, baking achievements (& blunders), exercise regimes, funny pictures and short videos, all things that are fun and interesting as well as our business operations."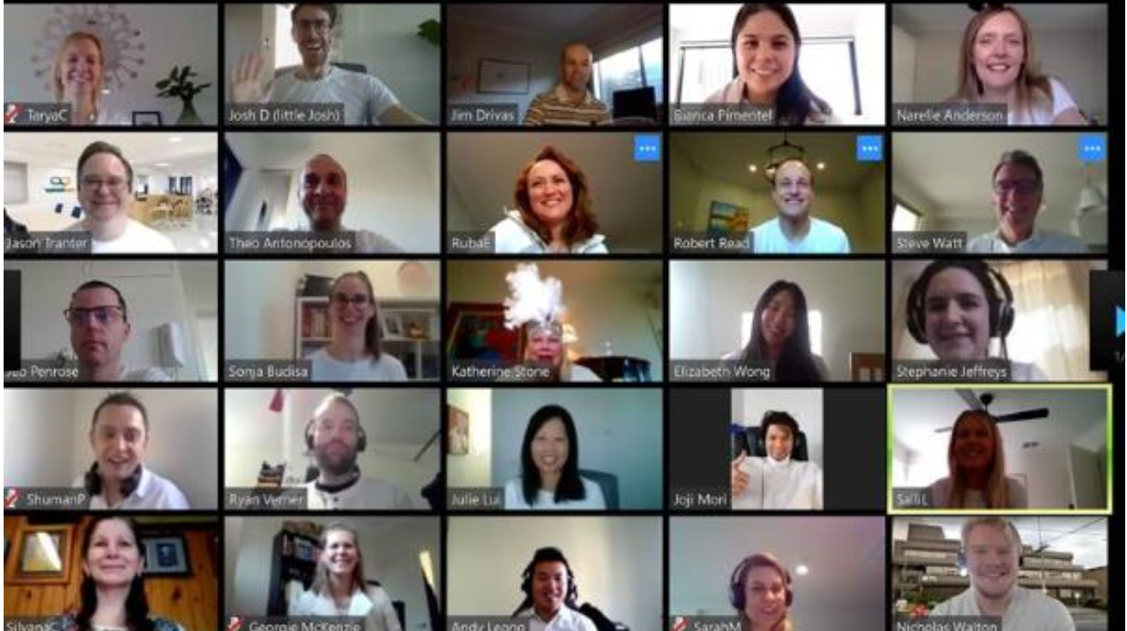 "We've been trying to introduce other physical and mental health initiatives and tips that we may not have thought of before. For example, helping people manage working and living with their families. We're partnering with providers to offer amazing programs on mindfulness, positive mindset and meditation. One of our executives is passionate about meditation so he now facilitates his weekly online meditation sessions on screen. We have even moved our group yoga sessions to Zoom yoga! This is even more popular as you don't even have to be early to get a good spot. We have also continued our walking/running groups with people meeting up in pairs at local parks near their homes. We've all been trying to maintain extra activities to achieve that work life balance."
"A big thank you to the Talent Scout Team. It has been perfect timing to introduce to the MedAdvisor team our online Training Portal."
Increasing engagement through corporate wellness initiatives
At Scout Talent, we've experienced a number of changes too. While our team members were working from home, we hosted fun virtual events outside of office hours, as well as only daily video conferencing to share good news stories and stay connected.
As we've returned to the office, we've establishing seating arrangements so everyone is at a safe and comfortable distance, increased cleaning initiatives, free parking, hand sanitising stations, and recommendations to wash hands, limit meeting areas and comply with physical distancing regulations. We've also kicked off a new initiative to increase engagement through corporate wellness. Our home-grown charity Healthy Workplaces designed a new, free app, called Step Forward. The Step Forward app is keeping people across Australia and around the world active and engaged by encouraging them to reach 10 000 steps per day.
The Step Forward app is available in the App Store to download anywhere in the world for free. CEOs and HR managers can invite their employees to download the app and participate in weekly challenges.
We've had a number of sponsors and participants from all around Australia. Participants can join the sponsored event weeks, and take as many steps as possible for the chance to win prizes.
"The second week of the Step Forward challenge was sponsored by my organisation," said Susanne Mather, Executive Director for Scout Talent. "I thought, 'this is a sporting event that I can actually win!' And I did, and that was very fun and exciting."
Interestingly, many people don't reach the recommended minimum of 10 000 steps per day.
"I was really surprised when everyone started on the Step Forward App that, not only was I not averaging 10 000 steps per day (which I thought I would have been!) but no one was. That was a big realisation for us all."
Interestingly, many people have found that health initiatives like these have positive, unexpected flow-on benefits.
"During the week I averaged 32 000 steps per day, what I found was that it had a long-term residual effect on my fitness," said Susanne. "Ever since then I've been stronger and fitter, which has been great!"
Some of our other team members have shared that it's helped people stay motivated and connected during this time.
"We've been working from home and have team members in different locations, so it's been a really great way for us to stay connected," said Steve Winter, our Sales Leader. "It's been really motivating and I've found it's really increased engagement in my team."
So far, we've seen great participation rates, with many of our team members competing to gain a spot on the leaderboard.
During this period of re-adjustment, many organisations are using this time to adapt and invest in long-term initiatives for the future. Changes to the workplace will flow from these realignments, and those that prioritise physical and mental safety of their employees and continue to invest in their long-term recruitment and talent strategy will succeed.
If you're interested in exploring talent pooling, eLearning, or corporate wellness solutions, contact us on 07 3330 2595 or at info@scouttalent.com.au.