It's no secret: recruitment matters. Talent leaders recognise the critical role recruitment serves in contributing to organisational success. Our Future Team Leader Alex spoke with Jeff Burns, Regional HR Manager for Hanson and Group Manager Human Resources for Alex Fraser to get his take on recruitment strategy, employer branding and employee engagement. 
Watch the complete video of this conversation from the event or read on. 
In March, Scout Talent hosted our Recruitment Insights lunch in Melbourne at Mr Hive Kitchen & Bar. It was a great opportunity to connect with our clients and contacts, celebrate over great food, drink and conversation, and share important industry insights. 
As Regional HR Manager for Hanson and Group Manager Human Resources for Alex Fraser, Jeff Burns has a wealth of knowledge and experience. He has been in HR for more than 25 years, 10 of which he has spent developing the HR function with Alex Fraser, recently acquired by Hanson in 2018. 
Hanson is a leader in building and construction materials and Alex Fraser Group is Australia's largest manufacturer of sustainable civil construction materials. Throughout his tenure in HR, Jeff has seen a number of significant innovations in recruitment. 
"[In the 1990s], if you wanted to do anything clever or branded in Australian newspapers, you needed to have a bromide on file with the printers," said Jeff. "Publishing a job ad was extremely time and labour intensive. Today, if you want to recruit for a role, you can run an online advertisement and start reviewing applications that same afternoon. We've come a long way from hard-copy applications and responses. However, while things are faster and easier than ever before, we shouldn't let it become a way to hire the wrong people quickly."*
Over the years, Alex Fraser has experienced a brand evolution, phasing out newspaper advertisements, starting online advertising with branded templates, and incorporating video to promote roles and the organisation. 
The early days of employer branding 
"I attended a corporate leadership council in 1999. They spoke about employer branding, and it lit a fire underneath me. We had to build our employer brand at Alex Fraser. Our work is not particularly attractive; we recycle concrete, brick, asphalt and glass. We created a proposition to encourage people to join our organisation: do good work for the environment and work with terrific people." 
In attracting people to join the organisation, it's been satisfying to see growth while reducing turnover. For Jeff, talent attraction is as much about turning away the wrong people as it is about hiring the right people. 
"You don't want to just hire 'anyone'. You want to find people who are a great fit for your organisation and understand what you're about. You need to plan for the future and determine how people will grow into certain roles. In recruitment, there are a number of hires you'll make that won't work out. Turnover isn't necessarily a bad thing. You need people to move on quickly if it's the right thing for them and your business." 
Gaining a deeper understanding of candidates through behavioural testing and checks 
In terms of which recruitment practices most accurately indicate successful on-the-job performance, interviews are low on the list. Jeff believes in looking beyond interviews to gain a deeper understanding and see what's "below the surface."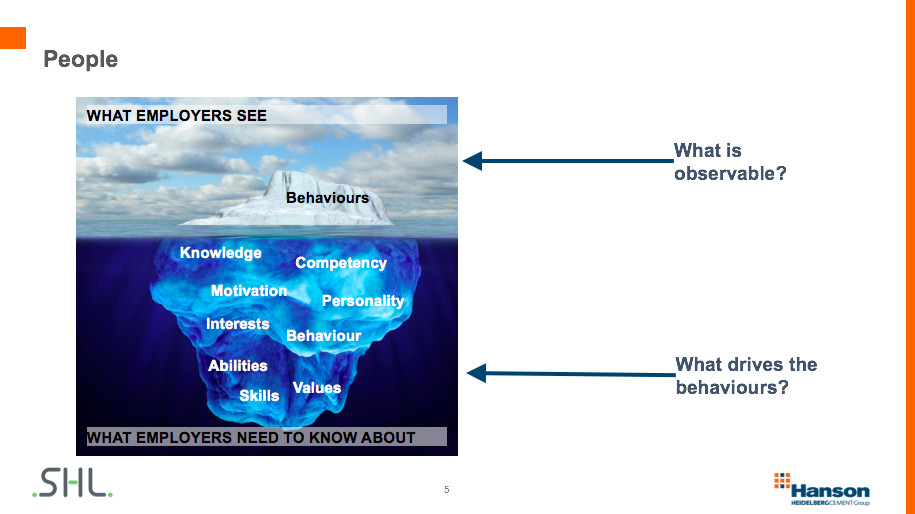 "Interviews are a terrible format for assessment. You need other methods to truly understand who they are and what their personality is like, particularly if you're trying to match that with your employer brand and values." 
Behavioural assessments have added incredible value to their recruitment process. 
"Gaining data 'beyond the waterline' helps you conduct better interviews and reference checks. For example, if a person has a tendency to work alone and they're applying for a customer service role, I ask how they reconcile that." 
Reference checks also play an important role. In fact, Jeff considers them an art in HR. 
"I like to do them after obtaining information through an assessment or interview, cross-referencing particular attributes that stand out. They're particularly valuable for managerial roles. They used to be very expensive, but now, they're very affordable. We use personality questionnaires to asses leadership capabilities, looking for uncommon qualities, such as strategic thinking."
An award-winning diversity program 
Alex Fraser and Hanson recently won the CCAA Innovation Award for Diversity & Inclusion through the success of their Woman Driving Transport Careers program.
How did they do this?
With 4000 employees and more than 1000 heavy vehicle drivers, Hanson was growing their transport fleet rapidly. Jeff needed to open talent pipelines to get more drivers into the business. Alex Fraser and Hanson were offered an opportunity to partner with Wodonga TAFE, who would provide a 4-week training program for women with a standard license to learn how to drive heavy vehicles. 
"We had a reduced recruitment period. Not only did we need to attract drivers without a history in a tight timeframe, but reach women who weren't actively looking for driver roles. This made it really challenging to access that talent pool. However, it was a talent pool nobody else had access to, because they couldn't solve those challenges either."
Jeff worked with his Account Manager at Scout Talent Group's recruitment services provider, Employment Office, to turbo-charge the campaign through social media.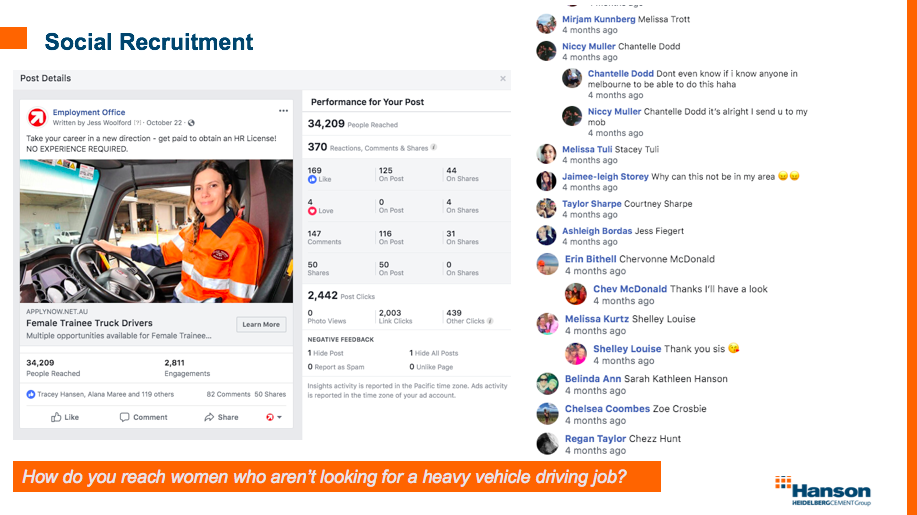 They were able to specially target women in their recruitment advertisements and social media strategy as permitted by the Equal Opportunity Act in Victoria. They achieved extraordinary success. 
"Our ads reached 34,000 people, with 2800 click-throughs and more than 300 applications. It was incredible to see people tagging their friends. That is the power of networking and social media." 
Interviewing represented another challenge, as the talent pool had no prior heavy vehicle working history. They solved this challenge by assessing soft skills. 
"We looked for characteristics, such as adventurousness. Perhaps they grew up on a farm and had some exposure to machinery. Perhaps they have family members in the transport industry. We knew people with these skills may be successful, but it was still a gamble." 
They invited 30 people to a Group Interview and Information Day. The session took place over three hours, with hiring managers present to take notes, team building activities and a morning tea to interact with candidates in a more casual and relaxed environment. 
A successful outcome 
"They weren't familiar with the job, so it involved a lot of education. We made eight new hires who joined the course, with employment from day one. It's paid off tremendously. We gained access to a talent pool that our talent competitors didn't. We hired women from all backgrounds, and many have the potential to develop into leadership and other roles. It's been so successful we want to run the same initiative in Sydney and Brisbane."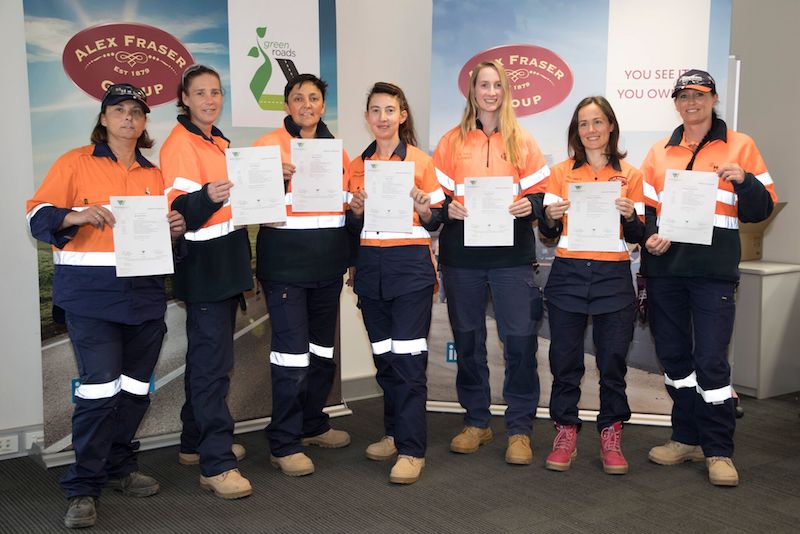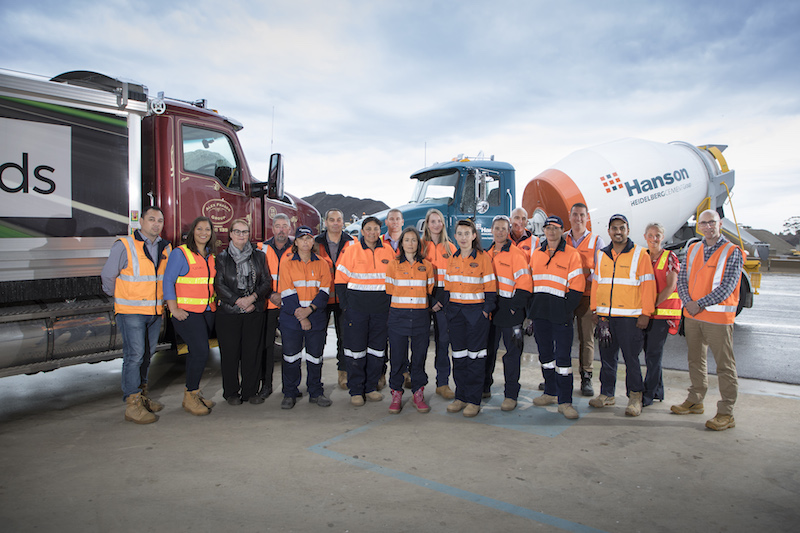 With change comes challenges. Jeff shared how their existing workforce accommodated their new team members. 
"We were surprised at the overwhelmingly positive response. Many of our drivers took our new hires under their wing and went above and beyond to make them feel welcome. Customer feedback has also improved; it has changed the dynamic of our delivery. There are things women bring to the workplace that is special and different. I really value having access to a talent pool that no one else does." 
When considering the future of recruitment and technology, Jeff believes people will always be in the picture. 
"Even with driverless trucks, you still need customer service representatives. Customers will always be part of the equation. In saying that, change and technology are developing at a rapid rate. We've already reached a point where complexity has outstripped capability."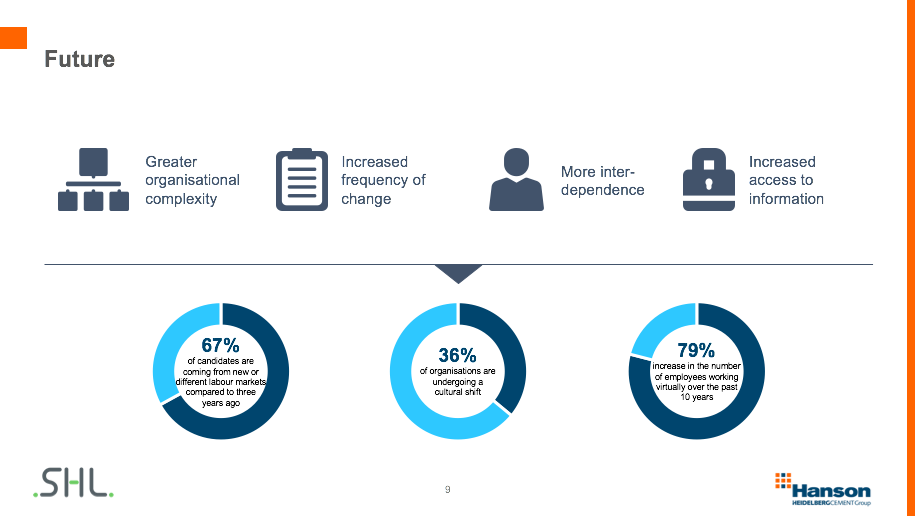 "With the rapid rate of change, you always need to be adding something extra in your role and routines. We want to help our people keep up with this change. In building our employer brand, we want to communicate to candidates how work plays a positive role in mental health and building positive relationships in life." 
Do you need strategic recruitment consulting to attract the best candidates to your organisation? Schedule a discussion with our Recruitment Specialists here, call us on 07 3330 2595 or email info@scouttalent.com.au. 
*Some direct quotes have been modified, with permission, for clarity.