Welcome to the latest edition of our product release notes. We've listened to your feedback and have supercharged your experience with a range of enhancements and fixes, making it easier than ever to streamline your workflow. Get ready for an upgraded user interface, smoother navigation, and a host of quality-of-life improvements. Say goodbye to bugs and hello to a lightning-fast, intuitive platform. Let's dive into the release notes:
UX/UI Updates and Improvements
Ongoing enhancement of the functionality and capabilities of the new-look Jobs Workflow.

:Recruit
Spellcheck was added to text editors.

The iframe capability was updated to show the published date instead of the creation date.

A 'last saved' indicator was added on the Edit Job page.

A State column was added to the applications overview page.

The ability to export application data in CSV format with applied filters and column chooser has been added.

Re-styled the table view in the Multiposter feature to include scroll buttons and added a location column to the SEEK table.

Improved warning messages and alerts when editing SEEK ad in Multiposter.
Quality of Life Improvements
Improving our platform's usability and making it even easier to use.

:Essentials & :Recruit
Clients can now filter candidates by country, which is a helpful feature to be very specific in location-based job eligibility.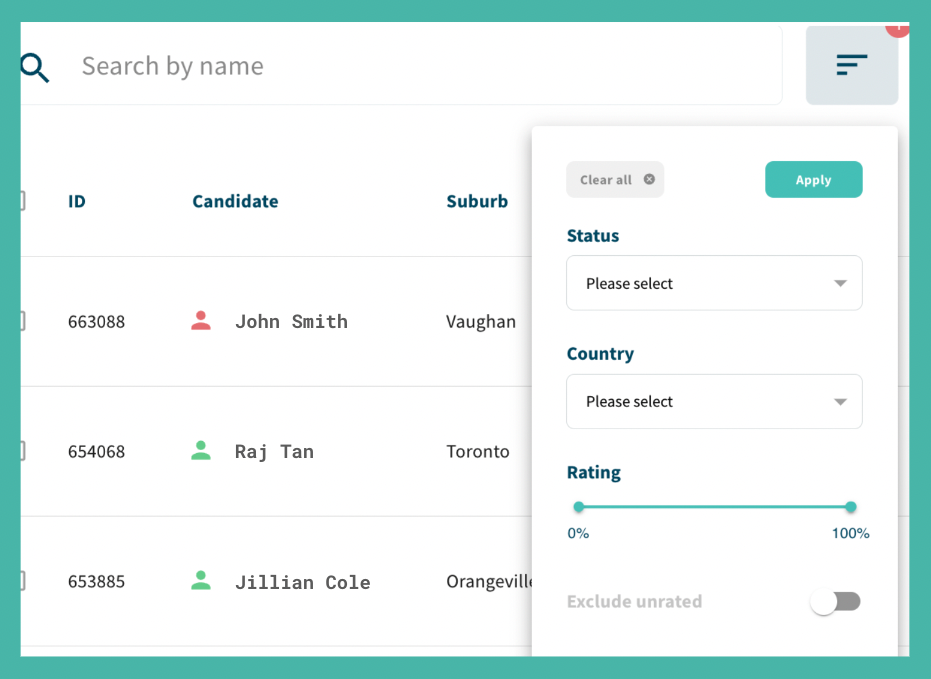 :Engage
We added the ability to filter by an additional status – New.
:Recruit
Implemented colour coding on the 'Expiry Date' field to alert when a job is near expiring or expired.
Added the ability to pin a job to your dashboard from within a job.
Improved the notes feature on the application table so that it includes the user who created the note, thus enhancing visibility and record-keeping.
Improved the usability of the select and deselect feature when completing bulk actions on the applications overview page.
Improved performance on the function of 'Select all' in the Applications Overview Page.
Added screening questions and answers to the Export CSV feature.
Added the ability to save user preferences when sorting.
Displayed time according to the job time zone setting.
Rounded up application ratings to a whole number.
Enabled the ability to complete a CSV export of application data with filters and column chooser applied.
Email templates are now displayed under the entity to improve the ease of searching.
The CSV export has been updated to include 'Application notes and Ratings' when generating the export.
:Onboard
A feature has been added to allow the selection of signature types available to a candidate.
Bug Fixes
Continuous improvement of the platform's performance and reliability.

:Recruit
The ability to preview MS Doc attachments in applications was fixed.
The issue of duplicate application complete reminder emails being sent was resolved.
The ability to search for phone numbers using the Quick Search function has been fixed.
Functionality has been added to retain filters on the jobs page when the user navigates away from the 'Jobs' page and returns to it.
Upcoming Advancements
These updates represent our commitment to providing you with the best possible user experience. We believe that these enhancements will make your workflow more efficient and enjoyable. However, our work doesn't stop here. We are continuously working on further improvements to make your experience even better.
Stay tuned for future updates as we continue to enhance our platform based on your valuable feedback. We greatly appreciate your input, so please don't hesitate to reach out to us at support@scouttalent.com.au with any suggestions or ideas. We look forward to hearing from you and working together to shape the future of our product.