Scout Talent :Recruit Essentials
Leading Australian recruitment platform for $1800 per year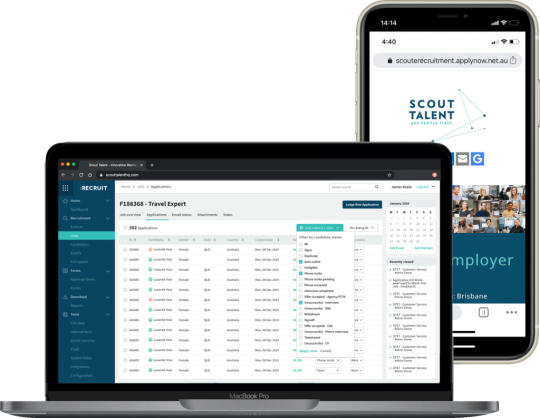 All your candidates in one place
Generally, investing in recruitment software can be out of reach for many small and medium-sized businesses – but not any more.
:Recruit Essentials delivers incredible ROI for just $1800 p.a. Plus, for a limited time only, you will also receive a complimentary branded expression of interest form, valued at $995.
For teams with limited HR resources, :Recruit Essentials allows you to view all your candidates in a single location, save time and effort screening applications, and shine a spotlight on your top candidates. Estimate your future savings by using this ROI calculator.
What will :Recruit Essentials help you achieve?
Post job quickly and easily
Create, edit and post job ads to your website and top-tier job boards. Advertise up to 3 roles at a time.
Create a seamless candidate experience
Guide candidates to a central, branded recruitment web page (with your logo, colours and imagery!) that makes your opportunity shine.
Screen applications
Screen and identify top candidates in your talent pool. (You can even use simple automations to screen candidates faster!)
Your recruitment processes, your way
Assign candidates with statuses (for example, 'contacted', or 'interview booked'). Allow your hiring managers to get notifications when applications are received.
Communicate with the click of a button
Use branded templates and send batch communications to multiple candidates.
Continuously build your talent pool
Create an ongoing expression of interest form to build a talent pipeline of great candidates for future roles.
Organisations that trust Scout Talent